Overview
Signant is an online service for digital signatures. The service enables you to create signature postings and retrieve digital signatures from your business associates. With Signant you get an advanced electronic signature to your PDF documents. This is a strong electronic signature defined by the acts related to electronic signatures, which sets high standards for authentication of document contents and signatures. The e-ID solutions for identification and signature currently supported by Signant are Norwegian BankID, Norwegian Buypass, Swedish BankID, and Danish NemID.
How it works
The basic concept of Signant as a signature portal is simple. You upload your documents to the service and tell the service who is the signatories. Signant will then start to request the signatories of their signatures. When all the signatories have signed the document online, you as the posting owner can download your signed documents.

Web Services
Signant offers several web service functions to make it easy for you to integrate digital signature with your existing business. You find technical details related to each web service in the following table:
Posting Service
The Signant Posting Service is the primary service for creating a standard signature posting. This web service allows you to upload documents and assign signatories. When you execute a signature posting, Signant will start to send messages to the signatories and requesting their digital signatures to your documents. When all signatories have signed you may use Posting Service to retrieve the completed posting.
The illustration below demonstrate the workflow for a standard signature posting: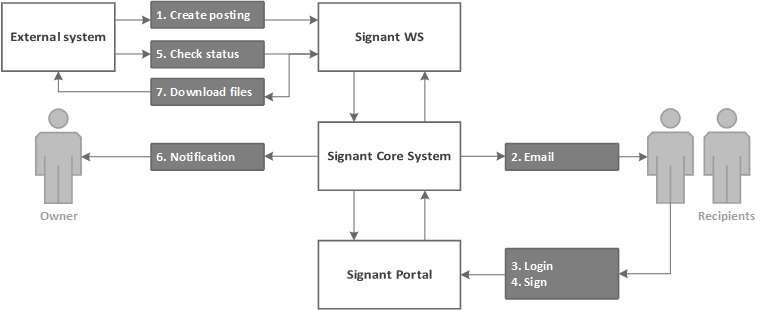 Posting Service workflow:
1.
Create posting.
Here you will use the webservice function CreateSignPosting to create and prepare a new signature posting.
2.
Email notification to the signatories.
This step is performed by Signant. The signatories will also receive reminder email automatically.
3.
Signatory login.
The signatory perform login with an electronic ID.
4.
Signatory perform digital signature.
5.
Check status.
Webservice function GetPostingStatus. You may use this function at any time to check the status of your signature postings.
6.
Email notification to the posting owner.
This step is optional and is turned on or off depending on your requirements by Signant
7.
Download signed documents.
Use webservice function DownloadAttachment to download your completed documents.
Code example for CreateSignPosting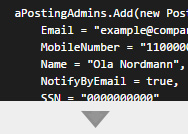 Instant Signature Service
The Instant Signature Service allows you to apply a digital signature immediately without use of email notification to the signatory. This service is typically suited for a web form scenario where you would like the end user to be able to digitally sign the form data immediately after fulfilling the web form.
Instant Signature Service workflow:

Dataflow steps
| | |
| --- | --- |
| 1. | Integrator web initializes a new "Instant Sign" posting. |
| 2. | Url to signing is returned. |
| 3. | User is redirected to signature page. |
| 4. | After successful signing the user is redirected back to Integrator web. |
| 5. | Integrator backend checks status (every 5 minutes), or when user is redirected back to Integrator web. |
| 6. | Signant WS returns signature status. |
| 7. | When signature status is completed Integrator backend downloads the document. |
| 8. | Signant WS returns the signed document. |
Code example for CreateInstantPosting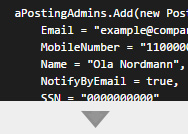 Authentication Service
The Authentication Service allows you to perform PKI based authentication of your end users.
The illustration below demonstrate the workflow for a standard authentication process: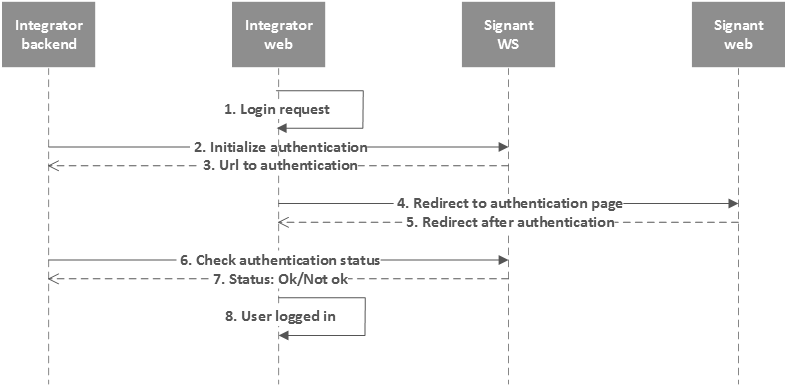 Authentication Service workflow steps:
| | |
| --- | --- |
| 1. | User tries to access locked page without being authenticated. |
| 2. | Integrator initializes new Authentication. |
| 3. | URL to authentication is returned. |
| 4. | User is redirected to the Signant authentication page. |
| 5. | After successful authentication the user is redirected back to Integrator web. |
| 6. | The redirect back (step 5.) should trigger a call to the "authentication status check" function call from the Integrator system. |
| 7. | Signant WS returns authentication status. |
| 8. | If authentication was successful the user is logged in to the Integrator web. |
Code example for InitAuth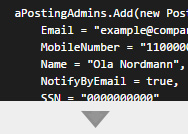 Web Form Integration
Signant Web Form Integration make it easy for you to embed a web form with digital signature into your own website. The actual form is hosted by Signant and you use a standard IFRAME to display the form where you like inside your own website.
Sample html document with embedded IFRAME:
Sample usage of Signant Web Form
Service Level Agreement
The purpose of the Service Level Agreement is to manifest the level of service to a common perception of what quality and assurance to expect from the service. The Service Level Agreement also describe consequence actions as a result of a service level not fulfilling the defined expectations. See the Service Level Agreement document.
Release notes
Signant release 7.1.0
Publisert: 24.10.2018
New product: Client identification as part of the Customer Due Diligence (Kundetiltak).
New: Automatic on-boarding/account upgrade for new and existing customers directly from the portal.
New: Callback service for status updates for distributors using the WS.
Improvement: Only show currently used e-ID as a choice when signing.
Improvement: More accurate calculation for widget placement in signed PDF.
Improvement: Deny locked and encrypted files when uploading in WS.
Improvement: Improved validation of mobile numbers when creating a posting from WS.
Improvement: Various bug-fixes and layout improvements.
Signant release 7.0.1
11.04.2018
Added troubleshooting page for BankID (link when selecting eID dialog)
Adjusted customer control form
Adjusted availability and default language for using SMS
Enhanced format control of mobile number while editing postings
The contact list is automatically updated when changes are made on a posting
Fixed error where user could choose country code for mobile number (new posting)
Signant release 7.0.0
27.03.2018
New feature: Support for SMS messages Enables initial notification by SMS and E-mail to signatories.
Phone number fields added to the Create posting wizard.
Checkbox to enable/disable SMS added to the Create posting wizard
Short URL to postings. To be used by the SMS service.
Improved CSS to floating labels in edit fields.
Contact list supports phone numbers
Signant release 6.3.3
13.12.2017
New: Contact list in the new posting wizard.
Can now select recipients from contact list containing last used recipients.
Improvement: Green BankID signature
New version of BankID that generates signatures that can be validatet in Adobe.
Improvement: Webservice
Small adjustments in the «error-processing» and error messages returned
Improvement: Signaturesite
Shows who has the "locked" file for signing and how long it has been locked.
Improvement: Login and signing
More modern layout on buttons and help text.
Signant release 6.3.2
03.05.2017
New: Danish NemID
Persons with Danish NemID can now use Signant.
New: Signant in Swedish
Swedish has now been added as an alternative in "Choose language".
Improvement: Signant Portal Enterprise
Simplified handling for adding Portal Enterprise customers with Whitelabel.
Improvement: Interval notifications
With a distributor level it is now possible to control how long the service should wait to send out reminding notifications and how often they should be sent.
Improvement: Layout and user experience
Small adjustments and improvals on desktop- and mobile version of the portal.
Signant release 6.3.1
10.01.2017
New: Completely new frontpage on www.signant.no.
New: Electronic signing with Svedish BankID.
New: Possibility to order your own layout (WhiteLabel) of the portal as a Portal Pro customer.
Improvement: Possibility to export direct links for signing from GetStatus.
Improvement: Better handling of invalid filename, title and description when creating a posting.
Improvement: Small adjustments of GUI in archive.
New: Signing with D-number with Buypass.
Improvement: Possibility to adapt filename in web forms.
Signant release 5.3.0
02.09.1016
New: Control of age and birthdate in Instant Sign WS.
Improvement: Archive and several small adjustments in layout.
Improvement: Logic around error handling and error logging.
Improvement: Edit posting created in Portal Pro.
New: When user edit email address in existing posting, new email will be sent out immediately.
Signant release 5.2.1
11.04.2016
New: Archive, pro users can now see archived postings and files that belongs to that account.
Improvement: Add multiple posting managers when creating a new posting.
Improvement: Adjustments in GUI.
Improvement: Removal of "Completed - Confirm" in dialog after BankID-signing.
Improvement: Optimize the process of postings (win serv).
Improvement: Guiding text when login and signing with BankID.
Improvement: Reject users that has turned of javascript, and provide a message about this.
New: Registration of new customers from the website, through a web form.
New: Header with icon and guiding text on all main sites in the portal.
Signant release 5.2.0
14.01.2016
New: User management.
Improvement: Add administrator to posting.
Improvement: Adjust GUI on the signing page.
Signant release 4.1.9
19.10.2015
New: Buypass without Java.
New: Language - Norwegian Nynorsk.
Improvement: Stops uploading of files that are locked or encrypted.
Improvement: Adjustments in GUI for better user-experience.
Signant release 4.1.8
13.05.2015
New: Preview of < new posting > email, last step in the posting wizard.
New: Changed framework for the frontpage/website.
New: User will get informed that we are using cookies on the website.
Improvement: Landing-page between "Try Signant" and the login page.
Improvement: Sender of email is now Signant for < name of person >.
Signant release 4.1.7
23.03.2015
Improvement: Responsive design.
Improvement: Simplified "Create new posting"-wizard.
New: Selection of sender in the wizard.
New: Sender of the emails are now allways the owner of the posting.
Improvement: The system remember the invoice recipient you chose the previous time.
Improvement: Better quality on logo in Widget.
Signant release 4.1.6
29.01.2015
New: Mandatory acceptance of user terms.
New: Choice to have widget visible or not.
Improvement: Downloading of files with norwegian letters or unusually long filenames.
Bugfix: Statuscoder is not updatet in correct database.
Bugfix: Logging postingowner when posting is created through WS.
Workaround: Login should now work in Firefox v.35.
Signant release 3.1.5.3
02.12.2014
Simple responsive design.
Bugfix when user signs files with "ÆØÅ" in the filename with BankID.
Signant release 3.1.5
04.11.2014
Upgraded to BankID 2.0.
BankID Patch 2.02.
Bug related in IE9.
New email templates.
Error when filename contains &%<> corrected.
Add new posting admins.
New WS Instant Sign.
Changes in layout in "My postings", icons for every reciever that shows name and email throgh "mouseover".
New list in "My postings" where you can see "Postings from others to sign by me" that contains a posting where my SSN is set as reciever.
Possibility to test email templates from win service.
Slacktrace do not longer appear i browser by serious errors.
Signant release 3.1.4
19.08.2014
Instant signing - WS and adapted signing page.
Overview over postings that awaits my signing.
BusinessLogic for BankID 2.0
Moved SDO and Eldosfiles to an own Common folder.
Signant release 3.1.3
12.05.2014
New postingtype - selfsigned.
"Add myself"-button i "New posting"-wizard.
New functions in WS for creation/delete/status of "batch" transmission.
Small bugfix and layout adjustments.
Signant release 3.1.2
03.03.2014
Signing page - New layout, simpler to see status and smaller buttons.
Redirect to logout if user try to access a posting that belongs to someone else.
IsLoggedIn-check before user read document. If user is not logged in then redirect to login.
Not possible to contain a new posting without upload at least one document, and have at least one recipient.
Not possible to sign if someone else has rejected the file.
Reason to rejection is now showing in "View posting".
Unlock document by clicking cancel.
Reject is now showing in a popup, where the rest of the page is "greyed" out.
The document is marked as rejected if one or more has rejected it.
Datepicker has been moved so it does not overlap other input-fields.
Show priority on recipients in "Edit posting".
Animated "Spinning snake" on upload and update buttons.
New Signant logo.
Not possible to see deleted posting.
Signant release 2.1.1
10.12.2013
Correct redirect when user click on cancel during login, activate posting and activation of token.
Show original filename in the portal instead of "filesystem-friendly" name.
Correct redirect when user login from email link.
Small bugfixes in WS.
Signant release 2.1.0
05.12.2013
Transferred functionality from maestrosignatur.no to signant.no, ready to make systems connect against Signant.no.
New and simplified webservice interface.
New Webservice documentation.
Available use of token and activation of posting (web).
Information on portal about use of cookies.
Signant release 2.0.1
14.10.2013
Small bugfixed.
GUI adjustment.
Signant release 2.0.0
27.02.2013 (through MAS 25.03.2013)
Signant release 1.0.0
2012 - Pilot edition
test3-aws-c